VOLUNTEER WITH US
Give Your Time
Thank you for your interest in volunteering with us.
In the wake of recent events, as you might imagine, we have been inundated with offers that have added to an already long waiting list.  We don't have the capacity, at present, to take on any more volunteers in a conventional way.   However, we are developing other ways in which you can support asylum seekers and refugees and we will be back in touch when we have more information on this."
Please complete and submit this form with your contact details. 
We will get back to you to discuss opportunities for volunteering at the Welsh Refugee Council.
About Volunteering with Us
We couldn't work without our volunteers. Whether welcoming people to our offices, leading language classes or providing peer to peer support, our volunteers make the Welsh Refugee Council.
Our volunteers come from around the globe and all backgrounds and speak over 15 different languages. They include former teachers, entrepreneurs and journalists. We particularly welcome volunteers from the asylum and refugee backgrounds.
Many volunteers say that coming to the Welsh Refugee Council is like having a second family.
Our volunteers support us in the following roles:
Communications assistants
Advice and support assistants
Office meet and greeters
English and Welsh language teachers (must have TESOL qualification or be working towards one)
Play Development Assistants (subject to Enhanced DBS checks)
Contact Us
Volunteer at a Local Charity Shop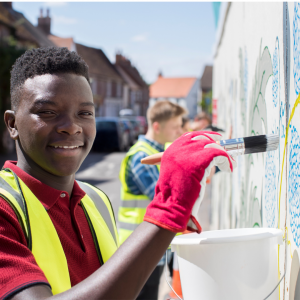 We are looking for volunteers to help run a charity shop, in partnership with the RSPCA, in Wellfield Road, Cardiff.  Previous experience is not necessary, although always welcome, as full training will be provided.  Travel expenses and a lunch allowance will be provided.
If you are interested please send an email to martin@wrc.wales by Thursday, November 18th 2021.
Email
supporting volunteers
IT skills, Practice & Language Skills
One of the key areas of our work is supporting volunteers from refugee backgrounds to enhance their IT skills, practice their language skills, and to learn other important transferable skills to help them find jobs in the UK – as well as helping us with much needed support.
We are always keen to hear from those who want to help. If you want to give your time, please contact us.
If you aren't able to give your time, a financial gift could make a huge difference to someone's life. You can donate at the link below.
Donate Here