What's it like to work at the Welsh Refugee Council?
Making a difference: We are a passionate and diverse bunch of people- coming from all walks of life. ¼ of our staff started as volunteers first. We are proud to stand up for people seeking safety knowing that together we are making the world a better place to live.
Working in our community hubs is fast paced and it can be difficult to plan for events, as immigration is often used as a political football. But working in a high-pressure environment is also enormously rewarding- you certainly won't get bored!
Due to our size- you'll have opportunities to try new areas of work or take on responsibilities you might not get elsewhere.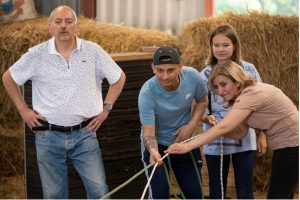 "I love that I've been trained and trusted to hold media interviews. In other places it would take years to get such breaks."
Our approach has enabled many of our staff to develop their careers and move onwards to higher level roles.  We are honoured to be a part of people's journeys in life.
Diversity of thought: Your ideas to improve the way we work is incredibly important to us. We have a practice of having revolving chairs at all our meetings- so we can learn from each other's leadership styles.  You'll be encouragedto speak up on topics that matter to you.
Training: We have a revolving training programme that you can engage with that includes topics such as Safeguarding, FGM, Managing Risk, Diversity, Equity, and Inclusion, Psychologically Informed Environments, and Working with Trauma. And many of our staff are also completing transferrable training such as ILMs and NVQs.
Annual Leave: To help people with a work like balance, our Annual Leave is generous. You'll start on 27 days and rise to 30 days per annum. You will also be able to take 2 paid days of volunteering, and 2 paid days discretionary leave in December. Our office hours are usually between 9am and 5pm.


"The Welsh Refugee Council feels like a family. We are all looking out for each other."