Join The Team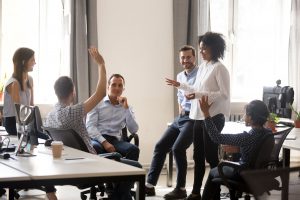 Do you want to grow, develop, and make long-lasting changes? So do we, get in touch with us.
At the Welsh Refugee Council (WRC) we believe in empowering and enabling the individual to be the best they can be to then mirror back to our community – whether through providing further learning and training, offering spaces and resources to work on your personal and mental health, or making space to find your own special skills.­­
"It is a privilege to work with children and their families in our Play Project. Seeing them smile and hearing them laugh, even when things are so hard right now, is both moving and rewarding. They are amazing!" Meryl, Play Project Lead
With our headquarters in Cardiff, working alongside our busy teams in Wrexham, Newport, and Swansea, we have an intimate yet growing body of 34 staff and a rich hub of over 40 volunteers. Our wide range of roles covers vital front-line advice and support casework, playwork, housing support, education and employability, volunteering, communications and engagement, finance and business development.
We welcome and particularly encourage individuals who identify as LGBTQi+, differently-abled, women from ethnic minorities, people from various economic backgrounds and people with lived experiences.
If you have initiative and ideas, we want to hear from you, to help us champion human rights and promote the voices of those forced to seek safety.  Your thoughts and approach are important to us- and that's why we have revolving chairs for all our meetings- so that we can learn from one another.
In return for your talent and hard work, each year we can offer you:
25 days leave, increasing by 1 day per annum to a maximum of 30 days
2 days paid volunteering leave
3 days paid parental leave
5% pension
Access to our paid counselling support.
Staff led wellbeing group; with activities such as fitness dancing, team building quiz events, and regular weekly Staff Room Chit Chats held virtually during Covid .
We believe behind every cause and organisation, there is a great team making everything possible. If you feel the values and mission of WRC align with your own, please apply today.
Our team