Skills for Integration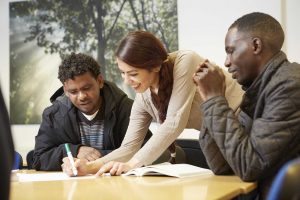 Asylum seekers and refugees come to Wales from all over the world, enriching our culture and helping to make Wales an outward-looking, multi-cultural, multi-lingual nation.
We empower people with the essential skills they need to integrate fully into Welsh life.
How we help:
English (ESOL) lessons for beginner to advanced levels.
Through our Asylum Guides project, o

ur guides, many of whom have lived experience,

 

explain the asylum system in a way that is accessible and easy to understand

Specialist short courses for asylum seekers and refugees such as Public Service Interpretation and CV workshops
Volunteering opportunities to help refugees build their experience and skills
We work with organisations to create pathways to employment
Our Cultural Integration partnership with Jobcentre Plus offers clients the chance to learn more about working in the UK.
Every day our team help people to read and understand tenancy agreements, bills and contracts – all the key skills for living and working in the UK.
Do you need employability support? Get in touch:
You can help us support refugees build a new future in Wales by donating here.
Donate now