Policy and Campaigning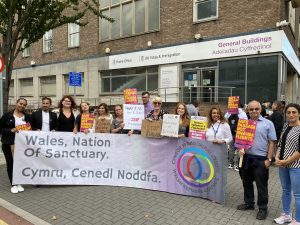 We are the leading organisation for asylum seekers and refugees in Wales. Sanctuary seekers and refugees bring skills and diversity that enrich Wales, but they can sometimes be made to feel unwelcome.
We campaign to
Challenge anti-refugee rhetoric and call out hostile practices to increase public understanding.

Improve policies and practice that directly affect those seeking sanctuary.
Celebrate the rich contribution asylum seekers and refugees bring to our country by sharing positive stories and promoting their many skills, talents and abilities.
Enable our clients to act as their own advocates and let their voices be heard.
Support us as we campaign for a fairer, kinder and more supportive system for those who come to our country in search of safety. We stand up for equality, respect and dignity for all who seek sanctuary in Wales and the UK. Through our campaigns, we work to improve the lives of asylum seekers and refugees and enable them to advocate for themselves. Donate today.
Other campaigns you can join