Mark Drakeford Calls for Work That Works for Everyone
"Every Single Person that comes to Wales brings things that enriches our community."

Mark Drakeford
On Wednesday 12th October Mark Drakeford opened an event promoting sustainable employment through partnership between businesses and refugees. The "Work that Works for Everyone" event was hosted by Cardiff Business School, with support from the Welsh Refugee Council and other business and charity partners. This forum brought together employers to explore the many benefits of providing opportunities to refugees and helping to make Wales a Nation of Sanctuary. 
"No matter where you go, the challenge of today is to find the people we need … Where do you get the childcare workers you need, the social care workers … where do you get your planners?" Mark Drakeford
Many refugees come to Wales with prior experience, qualifications and skills but they encounter barriers to finding work. Creating opportunities for refugees can bring significant value to businesses, addressing skills gaps, nurturing a diverse and inclusive workplace and enhancing social impact by opening pathways to employment.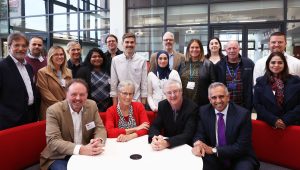 Our Employment Support
Each year, we deliver expert education and employment advice to help sanctuary-seekers navigate the world of work in Wales and achieve their ambitions.  
Your support is what helps make this possible. Please donate today. 
Do you need employability support? Get in touch: