Tawhida's Story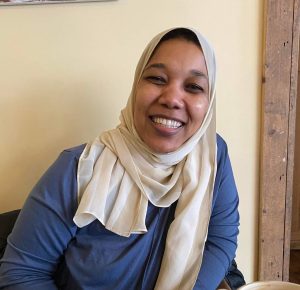 Hi, my name is Tawhida, I'm from Tanzania. I live in Cardiff with my two beautiful children. My son is 14 and my daughter is 11 years old.
When I first started coming to the playgroup we lived in initial accommodation [this is temporary accommodation while an application for asylum support is processed].
At the time, it meant my children couldn't go to school. It was very difficult, we were told several times we were being moved and needed to pack our bags, and often it was cancelled at the last minute. Life was so uncertain, I had no control, and I could see the distress it was having on my children. I knew I needed structure and a routine to make my children feel safe.
For 5 months I came to all the play sessions – every week. My children were not in school but I knew how important it was for them to play and make friends. I wanted to provide them with stability, something to look forward to and a place to learn.
I started to help other mothers and children when I was there – I listened to them, I saw them, and I knew I could help.
With the support of Welsh Refugee Council, my children started attending school. I knew at that point I wanted to volunteer. I understand how stressful the situation is for families, especially those in hotels and initial accommodation.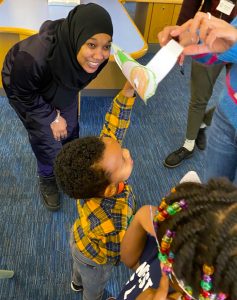 Our playgroup for these families is a lifeline and a place they can come to that costs them nothing. Families awaiting a Home Office decision live in abject poverty receiving a weekly allowance of £40.
It is incredibly stressful waiting for people to make decisions on your behalf, and you have no control over them. Even more when you are looking after your children and you want to protect them from constant worry.
I enjoy finding new ways for children to play, helping them to build dens and make friends and allowing their parents to rest and relax. It is important that groups like ours are around, children need to play. My own children still like to come with me in the school holidays and have fun.
We now have our leave to remain [refugee status] and are starting a new part of our life. My children are flourishing into young adults and I have 3 years of volunteering experience and childcare training because of our group. Most importantly, we have all made lifelong friends.
I would like to express my deepest gratitude to supporters like you for your generous donation, ensuring our playgroup can continue. If you can donate £10 today to support families, like me to access our vital playgroup, I would be extremely grateful.
Donate now