Mental Health Awareness Day
Mental health in refugees and people seeking asylum
There are currently 89.3 MILLION forcibly displaced people worldwide, 27.1 million are refugees and 4.6 million are asylum seekers.
People who have had to flee their homes may have faced traumatic events before and during their journeys. Those that have, experience severe mental health problems such as post-traumatic stress disorder, anxiety and depression as a result.

Refugees and asylum seekers in the UK are five times more likely to need mental health support than the rest of the population and an estimated 61% experience serious mental distress.
Once asylum seekers arrive in the UK, many still face constant uncertainty and anxiety as they try to rebuild their lives in a strange new place. Even when refugee status is granted, people need to find a home, a way of making enough money to cover essentials such as food and clothing, and school for their children.
Children seeking refuge
A shocking 36.5 million (41%) forcibly displaced people are children under the age of 18. 1.5 million children were born as refugees.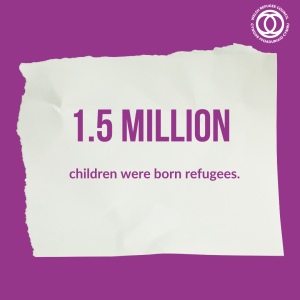 The mental health toll on refugee children is particularly high. They have in many cases been traumatised by their experiences and they have less capacity to process the situation they are in.
A high number of refugees are children who have been separated from their family – in the year ending June 2022, the UK received 4,896 applications for asylum from unaccompanied children. These children don't have any family support or protection and are even more vulnerable to abuse and exploitation.
Although the situation is desperate for people who find themselves in need of refuge, mental health support can help them rebuild their lives in a new home.
Finding help
If you are a refugee or asylum seeker in need of support, contact us on 0808 196 7273 to book an appointment.
If you or someone you know needs mental health support, here are some organisations and resources that may help:
Resources for mental health support
Asylum Seeker Mental Health and Wellbeing Project | Barnardo's (barnardos.org.uk). Call their helpline on 0800 151 2605.
Samaritans | Every life lost to suicide is a tragedy | Here to listen
Refugee and asylum seekers in Wales | Mental Health Foundation
Guides to support and services – Mind
More information about refugees and mental health:
UNHCR – Mental Health and Psychosocial Support
The mental health experience of refugees – Refugee Council