Lord Mayor and Lord Mayoress visit our Safe Play Spaces Project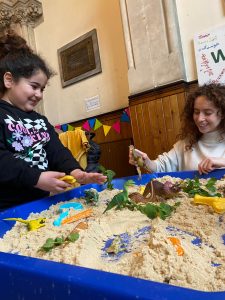 On Tuesday 18 October, we had the pleasure of welcoming the Rt. Hon. The Lord Mayor of Cardiff, Councilor Graham Hinchey, and the Lady Mayoress, Anne Hinchey to our Cardiff Office.
They joined us to come see our work supporting refugee children and their families through the Safe Play Spaces sessions. After meeting with staff and volunteers at our Cardiff Office, they visited one of our sessions at the Trinity Centre.  
The Lord Mayor was impressed with the number of people giving their time as volunteers to make refugee children and their families feel welcome and safe. "[This shows] Cardiff is a place of refuge and sanctuary … It is absolutely lovely to see international children playing together," he said.
We agree!
Our Safe Play Spaces Project is attended by children of all nationalities and ages. We host three play sessions a week at Trinity Centre where refugee children and their families can relax and have fun. Over this summer, 77 children joined our group which means we have now helped 225 since April 2022. We currently have four volunteers working with us to help make these sessions so supportive to the families attending. 
You can help us to provide safe play spaces for children by donating today.