Head of Communications and Engagement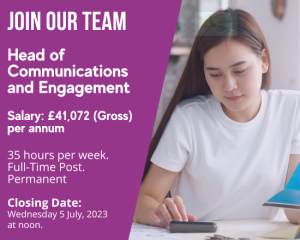 You will be joining us at an exciting time in our journey, helping us and the sector to support those who are forced to seek safety.  With over 30 years' experience, we are trusted by the communities we serve and are seen as the lead organisation in Wales for asylum seekers and refugees.  
Job Title: Head of Communications and Engagement
Report to: Chief Executive
Salary: Salary: £41,072 (Gross) per annum
Hours: 35 hours per week – normal office hours are 9:00am to 5:00pm but this role may involve some agreed occasional out of hours' activity and occasional overnight stays with working away from the office.
Location: Hybrid working. We operate a hybrid working-from-home/ office environment.  (All-Wales post).
Duration:  Permanent
Benefits per annum:  
27 days leave, increasing by 1 day pa to a maximum of 30 days
Up to 2 days paid volunteering leave, up to 3 days paid carers leave and upto 5 days paid study leave.
5% pension
Access to company-paid counselling support.
Staff led Wellbeing Group; with activities such as lunchtime food sharingsessions, fitness dancing, and team-building events.
Purpose of the Post
As our Head of Communications and Engagement you will lead our work with communications,
engagement and influencing policy and practice. You will be a change maker helping us to
support and empower those forced to seek safety.
You will line manage a small but mighty team of 3 full-time staff, media contracts, and
communication volunteers.
The ideal candidate will be:
Personable- with excellent verbal skills. Able to win over stakeholders, both refugees
and senior stakeholders to influence for change.
Able to work under pressure, quickly, to tight deadlines, and able to adapt priorities.
Have excellent writing skills. Able to submit high-level briefings, and consultation
responses, and ensure key points are communicated for maximum affect.
Able to coach and mentor team members, ensuring they are empowered to be their
best.
Experienced with campaigns to mobilise communities and stakeholders and increase
engagement.
Creative- helping our brand, newsletters, publications, social media, and website
improve.
In return, you'll receive a decent salary, and very generous annual leave allowance. You'll have
opportunities to try out new ways of working and make changes to the way we work.
Our previous Head of Communications and Engagement said this about her experience at WRC:
"Being the Head of Comms and Engagement was without a doubt one of my favourite
jobs. I got to work directly with some of the most marginalised people in our society, to
help them share their stories. This gave me huge job satisfaction, as I could see the direct
impact of my work in shifting the narratives we hear".  Harriet
To find out more about this opportunity, please find the job description here: Job Description
Download and complete the application form: Application Form
Please submit your application to recruitment@wrc.wales
Closing day Wednesday, 5 July, 2023 at noon. Applications received after this date, will not be considered.