Chair of Trustees Completes Three Peaks Challenge fundraiser
Last Tuesday 11 October, Harry Iles completed the South Wales Three Peaks Challenge, climbing the three mountains of Blorenge, Sugar Loaf and Skirrid in the Black Mountains. He raised over £1900 for English lessons for asylum seekers.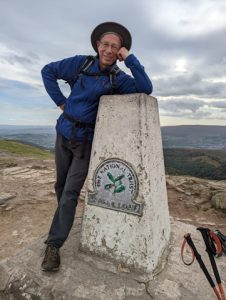 His epic fundraising challenge took over 11 hours. He walked 22-miles and climbed over 5,000ft.
Harry, Chair of the Welsh Refugee Council Board of Trustees, said "Thank you so much, the money you have given will make a real difference, enabling us to offer more English classes to asylum seekers who are starting to build new lives here. A great example of Wales being a Nation of Sanctuary."
"People who have sought sanctuary from war and persecution, from Afghanistan, Ukraine, Iran and many other countries attend our ESOL classes, which are often oversubscribed. We [wanted] to raise money to provide more opportunities for them to learn and develop language skills. The funds we [have raised] will be used to provide English classes and events that bring people together, where conversations build friendships and understanding."
Harry's achievement will mean we can continue to provide English classes for sanctuary seekers and help make Wales a Nation of Sanctuary. You can still donate to Harry's fundraising challenge to help us provide English lessons to as many people as possible.
Inspired by Harry? Organize a fundraising challenge of your own! Contact fundraising@wrc.wales and we'll provide you with the guidance you need to plan and succeed in your fundraising campaign.