Advice and Support Caseworker Newport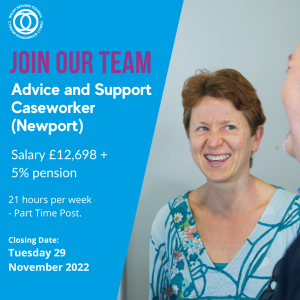 You will be joining us at an exciting time in our journey, helping us and the sector to support those who are forced to seek safety.  With over 30 years' experience, we are trusted by the communities we serve and are seen as the lead organisation in Wales for asylum seekers and refugees.  
Job title: Advice and Support Caseworker
Report to: Wales Sanctuary Service Manager
Salary: £12,698 + 5% pension
Duration: End of March 2025 in the first instance
Hours: 21 hours per week (3 days)
Location: Newport
Annual benefits pro rata:
27 days leave, increasing by 1 day per annum to a maximum of 30 days
Up to 2 days paid volunteering leave
Up to 3 days paid carers leave
Up to 5 days paid study leave
5% pension
Access to company paid counselling support.
Staff led Wellbeing Group
Purpose of the post
With Welsh Government funding, a consortium of organisations led by the Welsh Refugee Council are working together to deliver a Wales Sanctuary Service which will improve access to support services and advice for Sanctuary Seekers across Wales. As and Advice and Support Caseworker, you will work as part of this team providing advice and support on a case-by-case basis.
To find out more about this opportunity, Newport Caseworker Job Description Nov 2022.
Download and complete the Application Form.
Please submit your application to recruitment@wrc.wales
Closing day Thursday 8 December 2022 at 5pm. Applications received after this date, will not be considered.