Fundraising stories
Louis' Bang Tidy Event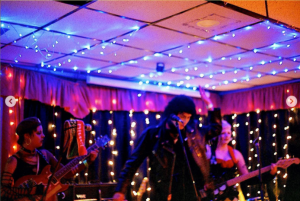 Louis is a 27-year-old Welsh postman who, after gigging in his spare time, came to realise that there were little-to-no opportunities for up-and-coming artists and musicians to promote their work in his local community in Cardiff. Thus, Bang Tidy Events was born. His mission is to transform Cardiff's local music scene. He wanted to combine all the things he loves within the current climate of the flourishing music scene in Cardiff and provide a space for this to grow. He recognised that his events would be an amazing opportunity to raise awareness of the Welsh Refugee Council.
"I chose Welsh Refugee Council because I feel like we, as a country, do not do enough to help people fleeing from war zones. I found their team helpful and thought they helped a bunch by sharing social media posts and generally being nice."

Louis Jugessur
Louis organised a live music event at Cathays Cons Club, Cardiff. Over 100 people came together listening to amazing bands such as Kiddus, Yasmin & the Euphoria, Wet Paint LTD, and Nookee. With the help of the local community and businesses, friends, family and of course, extremely talented musicians, Louis raised an incredible £730!