Take on a challenge for Welsh Refugee Council
Want to raise money to support sanctuary seekers and refugees across Wales, but don't know where to start? Whether you're a first timer or a regular fundraiser, everybody needs a little inspiration sometimes. From Bingo to Beard-Shaving, Open Gardens to Obstacle Courses – there are thousands of ways to help raise vital funds.
At WRC we love a good challenge event! Take your pick from our challenge events below or get in touch if you are planning something unique.
Once you've registered, we'll be straight in touch with tips to help you set up a JustGiving page and reach your fitness and fundraising goals.
With every step, you'll help transform the lives of sanctuary seekers and refugees across Wales.
Rachel's 3 month hike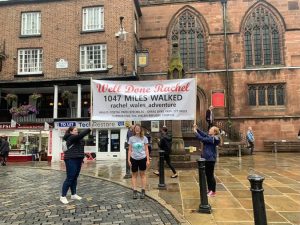 Rachel has just finished her epic 3-month hike around the Welsh coastline, walking over 1050 miles. Along her way she was sometimes joined by friends, family and even WRC staff.
"This wonderful organisation supports people who have travelled from unstable homes, by much more uncertain journeys and set up new homes in Wales – a Nation of Sanctuary."
Rachel raised over £6,800!
Mari, Emyr and Elin hike equivalent of Mt. Everest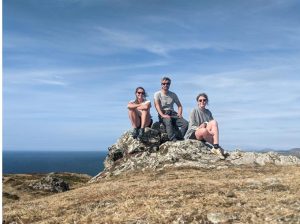 Mari, Emyr and Elin walked the equivalent elevation of Mt Everest by hiking up Mynydd Enlli on Bardsey Island (168 meters) eighty times in the month of August 2022.
"The three of us feel strongly that Wales should be a nation that welcomes refugees and supports them in every way possible and we admire the work you do to make that possible."
Their goal was to raise £500 but through their commitment and the generosity of their supporters, they raised over £1500!