WRC calls for more support for asylum seekers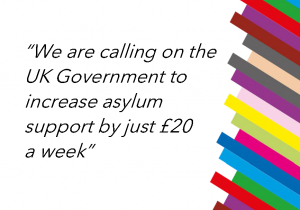 Welsh Refugee Council today joined forces with 60 other organisations across the UK to call on the UK Government to raise the asylum allowance by £20.
We welcomed the commitment by the Chancellor to increase Universal Support rates by £20 per week which reflects the increased living costs which people are incurring during this crisis.
We believe this should be extended to asylum support rates too.
Asylum seekers currently receive as little as £35.39 a week.
That money isn't just for food.
On just over £5 a day, asylum seekers are expected to pay for sanitary products, toiletries including soap, and mobile credit so they can get online or call their families.
We are calling on the UK Government to increase asylum support by just £20 a week for the next 12 months in line with Universal Credit, and for Section 4 support to be paid in cash.
The coronavirus does not discriminate – and neither should we.
3rd April 2020 Letter to Chancellor and Home Secretary on Asylum support rates