The need for integration from Day 1
Whenever we speak to asylum seekers or refugees about their ambitions for a new life in the UK, one of the key issues which we hear time and time again is how important being able to work, and contribute is to them. We believe to enable this to happen, integration support should happen from Day 1.
That includes:
Funded and accessible English and Welsh Language classes
Access to employability support for asylum seekers as well as refugees
The right to work for those in the asylum system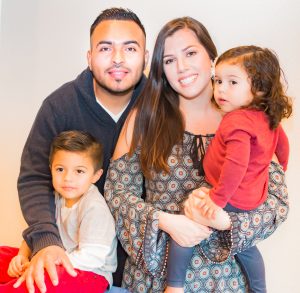 "Asylum seekers are not able to study at university and not able to work. We are using up the money of the taxpayer. It's simple – we can make a contribution to society – we too have a responsibility for the future of this society.
 We should be making the most of our brains and recognise our skills and talents, rather than looking at us with pity"
A recent report by the Lift the Ban coalition found that allowing asylum seekers to work would have a cost benefit of £97.8 million to the UK Treasury.
Asylum seekers and refugees are often well qualified and experienced in their country of origin. Yet, the employment rate of refugees entitled to work and of working age has been estimated to between 20-50%. These low employment rates also conceal high rates of under-employment. Both contribute to high levels of poverty and social exclusion, and poor levels of well-being.
Asylum seekers tell us they find it challenging to access English classes with barriers in terms of transport, the levels and availability of classes, or issues accessing childcare.
They tell us how difficult it is to have their qualifications recognised in the UK. The nature of leaving their own country means they often cannot bring qualifications with them, or cannot contact their previous colleges, universities, or governments to have their accreditations passed to the UK.
"The biggest problem for asylum seekers is the length of time they wait for a decision on their asylum claim. This waiting time causes so many problems mentally and its effect on asylum seekers is long-term. We need the Home Office to make quicker decisions and there should be a maximum length of time in which a decision must be made. It is not fair to allow people to wait, unable to work, unable to learn, unable to settle and find safety and security. "They share with us how the long waits in the asylum system while unable to work means they aren't able to keep their professional skills up to date.
Earlier this year, the Welsh Government commissioned a Refugee Employment and Skills Support Study produced by Dr Duncan Holtom and Hibah Iqbal, from the charity People & Work (Pobl & Gwaith). Published in March 2020, the report considers the ambitions of refugee populations, the barriers they face in achieving these goals, and how support could be developed to help them overcome these challenges.
The report supported much of what our communities have told us. It found:
Aspirations of refugees and asylum seekers are often misaligned with employers' expectations
Most refugees and asylum seekers are highly motivated, expect to work, and dislike relying on the Government for support. Their skills and qualifications level vary, reflecting the diversity of their background. They usually have high aspirations for employment – at least initially. They prefer to find work that matches the skills and experiences they acquired before seeking asylum, with the social care, education and construction sectors proving particularly popular.
Under current UK Government policy asylum seekers are not allowed to work while their claim is being considered. Those granted the refugee status can work, but their aspirations and skills are often misaligned with their employer's expectations. This seems to be particularly true for those who wish to retain professional jobs, where employers expect high English skills and "cultural competence" – the ability to understand, communicate with, and effectively interact with employers and work colleagues in Wales.
While some may be able to develop their language and employability skills further before entering employment, many will be forced to lower their aspirations.
Refugees and asylum seekers also face multiple generic barriers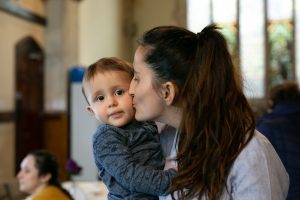 Due to the enforced nature of their migration, refugees may suffer from poor mental health and from reluctance among some employers to hire them. They may also have gaps in their CVs, fail to gain recognition of qualifications, skills and experience gained overseas, and struggle to understand the UK's employment culture and job application procedures.
In addition, refugees may face challenges linked to circumstantial factors, such as childcare commitments. Syrian refugees resettled in Welsh rural areas as part of the Syrian Vulnerable Persons Resettlement Scheme reported other barriers linked to rurality, such as weaker labour markets, more limited public transport, greater isolation from co-ethnic groups and more limited support services.
All these hurdles, combined with financial pressures, are likely to impact refugees' and asylum seekers' sense of self-worth – leading them to lower their aspirations and to accept under-employment.
Participation in English courses is high, but low in other types of education and volunteering
The barriers in accessing education and training are similar to those in accessing employment. They include poor English language skills, difficulties with transport or childcare commitments, unfamiliarity with the UK education and training system, isolation and a lack of social support, and failures of education and training institutions to meet their needs.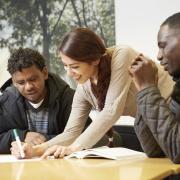 Some refugees may perceive pursuing education or training as risky and prefer to seek employment first. This would explain why roughly two-thirds of those surveyed by the authors of the study reported having taken part in English for Speakers of Other Languages (ESOL) provision, while participation rates in other types of education and training in Wales, such as college (20%), university (10%), community provision (10%) are much lower.
Participation in volunteering or work experience is equally low. In addition to the language barrier, asylum seekers cannot volunteer with private business, and refugees relying on work-related benefits like the Job Seeker Allowance must ensure volunteering doesn't conflict with their commitment to actively look for a job.
Recommendations
The study recommends adopting a strategy focused on extending rights, aligning aspirations and skills with employer expectations, and addressing other barriers to work and progression in work. It calls for the Welsh Government to support integration from day one and to strengthen support, education and training provision to refugees and asylum seekers. It also recommends improving employer engagement with refugees; as well as data, evidence, and governance so that employment experiences of refugees can be better understood, and responsibility for action assigned more efficiently.
WRC support
At the WRC, we work hard to ensure that we give people the skills they need to integrate fully into Welsh life.
We offer free English and Welsh language classes for asylum seekers and refugees with levels from beginner to advanced. We also offer specialist short courses for asylum seekers and refugees which have included Public Service Interpretation, numeracy classes and CV workshops.
We enhance the skills and experiences people bring with them by providing volunteering opportunities. Volunteers from refugee backgrounds assist caseworkers, interpret, and make sure clients feel welcome in our offices.
We work closely with organisations supporting pathways to employment and can refer clients for assessment and individualised planning. Our Cultural Integration partnership with Jobcentre Plus offers clients the chance to learn more about the world of work in the UK.
Our Education and Employability Support Worker can help support asylum seekers and refugees access courses and support. To find out more get in touch with us info@wrc.wales