Nation of Sanctuary Awards, 2023. Nominations OPEN!
After a very successful inaugural Nation of Sanctuary Awards in 2019, they are returning on Wednesday 29th March 2023 at Cardiff City Hall. The Nation of Sanctuary Awards are a celebration of the contributions of sanctuary seekers in the arts, languages, business, and volunteers from all across Wales.
This year we will be hosting the following awards:
English Learner Award

Welsh Language Learner Award

Woman of the Year Award

Volunteer of the Year Award

Contribution to the Arts Award

Entrepreneurial Spirit Award

Refugee Sportsperson of the Year

Leader of the Future Award

Nation of Sanctuary Award
We are excited to announce that the nominations for the awards 2023 are opening on January 13, 2023. 
You can find the nomination criteria (and other important information) can be found here: NOMINATION CRITERIA 
You can find the nomination from here: https://forms.office.com/e/qnxgEi0XDW
The deadline for submitting your nomination is on Monday 13, February (this has been extended a week)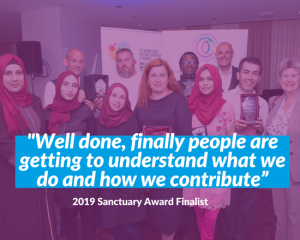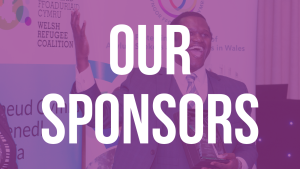 We are delighted to announce that our Headline Sponsor for the Sanctuary Awards 2023, is PwC.
We have also received funding from Welsh Government, National Lottery and Cardiff Council to enable this event to happen.
Our Award Sponsors are as follows …
English Learner Award – Open University Wales
Welsh Language Learner Award – Coleg Cymraeg Cenedlaethol and Ganolfan Dysgu Cymraeg
Woman of the Year Award – Admiral
Volunteer of the Year Award –

Wales and West Housing

Contribution to the Arts Award –

Arts Council of Wales

Entrepreneurial Spirit Award – IKEA
Refugee Sportsperson of the Year – Welsh Rugby Union
Leader of the Future Award – Open University Wales
Nation of Sanctuary Award – Cardiff University