Housing Role Models: Yaser's Story
Housing is complicated and doubly so if you are a newly granted refugee given just 28 days to leave Home Office-provided accommodation and find somewhere to live.  Thankfully, Welsh Refugee Council are available to help newly granted refugees to find new accommodation and prevent homelessness. Diolch yn fawr to the Oak Foundation who fund our housing work.
Yaser tells us his story; From his arrival in the UK to his staying in hostels to his eventual move into private rented accommodation: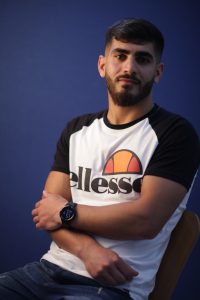 Yaser arrived in the UK as an asylum seeker in 2019. After a short stay in London, he was moved to Cardiff, a city he was unfamiliar with. The Home Office placed Yaser in a property shared with six or seven other people. Although there was a kitchen, the other residents didn't clean. Yaser was also forced to share a room. Yaser was eventually moved to another property he shared with four others.
Yaser was granted Leave to Remain in July 2021. As a result, he had to leave the Home Office accommodation. He sought help from the council's housing team, who placed him at The Walk, a hostel run by the YMCA in Cardiff. Because he found work in construction, the fees he had to pay to stay there were very expensive. Yaser didn't like sharing with strangers in the hostel and wanted a more independent solution.
The YMCA helped Yaser into a studio they managed. Although Yaser appreciated it was cheaper and more spacious, he bemoaned how restrictive it was. Yaser didn't have his own key and visitors had to be signed in. Yaser didn't want to be so limited in what he could do, so he saved money to move into the private rented sector. Once Yaser had saved enough money, the YMCA helped him to move out and find another property they managed. He now shares a house with two other refugees and two British nationals. Although Yaser would still like to live by himself, he says "it's better than a hostel". When asked why he chose to move out of a hostel, he said that he needed a private space as he was working full-time. Sharing was affecting his sleep.
Yaser also said "I'm young and healthy, I want to fend for myself". He encouraged refugees who are placed in hostels not to give up. Yaser has achieved a great deal of the independence he desired. As he explains, "I pay my rent on time and they leave me alone".