Help Stop Hate Crime in Wales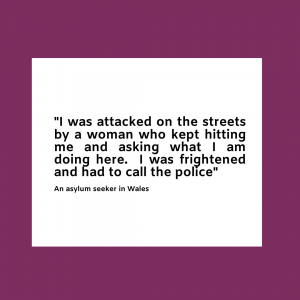 Help Stop Hate Crime in Wales.
90% of refugees and asylum seekers said that they did not know what a hate crime was
100% said that they would worry about reporting it because of their asylum claim.
They thought it was just something that they would have to put up with. It isn't.
If someone threatens or harm you because you were not from the UK, it is a crime and the police will take it seriously.
To learn how to report a hate crime or incident watch the video below.
To report you can call the Police on 101 or Victim Support on 0300 303 1982
More about what a hate crime is an how to report it
Our Hate Crime leaflet is available in 12 languages. It's also available as an audio guide in English and Arabic.
You can access the audio guides here