Move On
Caseworker Blog
Despite the lockdown, our team are still working hard to make sure asylum seekers and refugees are able to access help and support during this challenging time.
We wanted to share some of the stories and experiences of our team, and some of the challenges they face.
Receiving refugee status should be a positive step forwards – it can be the end of a process of months, and sometimes years. Getting your status should mean you're safe, you can stay, you can start to build a future here. But for many, it's the start of a new challenge with just 4 weeks to find somewhere new to stay, to access employability support and find some financial security.
This week, our Move On team – who support new refugees – are sharing their stories.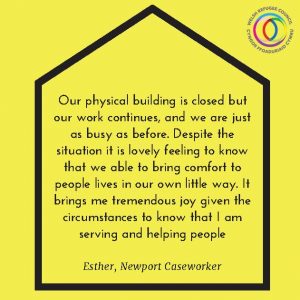 May 2020
Monday
I start my day checking the Team Log to see what work I need to pick up first. I work on the Move On team – helping new refugees to settle into their new life in the UK by helping them access housing and financial support. We're a small team with staff based in each of the four areas of Wales where asylum seekers are housed – known as dispersal areas. Most of us have experience either arriving in the UK as a refugee or migrant so we know what it's like to be new here, to not speak the language or to not fully understand the system. That means we can have a lot of empathy with the people we're working with. In many cases one of our team, or one of our brilliant volunteer interpreters, will speak their own language.
We're always very busy and the shift to working by phone has presented a lot of new challenges. As we're contacting people by phone, it's much harder to gain trust. People are aware of scam calls and when I'm calling people to check on how they are and if they're getting their support, many are suspicious. If I can invite someone to come to our office to meet me face to face, they can trust that they're getting good quality advice from a trusted source. They can see me I can see them. It's much easier to build a relationship. It does happen now – and after a few conversations when we have been able to establish that trust it's amazing what can be achieved – it just takes longer now.
Today I pick up the case of a newly granted refugee. Getting refugee status is a relief for many as it means safety and the opportunity to build a new future in Wales. But the realisation soon dawns that they have to leave their Home Office provided accommodation in just 4 weeks. They have to find somewhere new to live, and either find a job or access employment support through Jobcentre Plus to help them move into work. That's where I can help.
During the coronavirus crisis the Home Office have stopped all evictions from asylum properties. This is really important and something we argued should happen right at the start. However, people still need help to open bank accounts and contact the Jobcentre. Many people I speak to are surprised they still need to do all these things during lockdown.
I call her and introduce myself and the support I can offer. We talk through the process of applying to open a bank account and how to make an application for Universal Credit. She is really appreciative of the support.
We go through the Universal Credit application first and I ask her to send me copies of all the documents we need. Of course she doesn't have a scanner so has to send me photos of them all from her phone. I send a message to her job coach explaining she needs a phone appointment. She speaks English very well so language won't be an issue, but I will request an interpreter if they need one.
I then help her open a bank account. We make the online application but it can take several attempts for it to be accepted sometimes which means talking her through the process several times. Even though we can do most of it online, she still needs to go into a branch – even in the current crisis – with her ID to open it. We have built a really good relationship with some of our local bank managers and so I arrange for her to go down with her ID and a letter from us explaining what is needed.
This all sounds quite straight forward but actually takes a lot of time going back and forth over the phone to get all the information right and to get the documents uploaded. What would usually take an hour in the office is taking up to five times as long now.
I'm glad I can help her and I let her know I'll speak to her again several times as she moves through this process.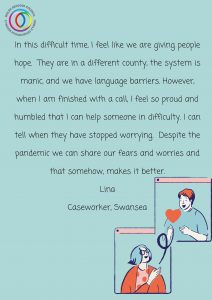 Tuesday
This morning I pick up a case of a family trying to apply for Child Benefit. We have been supporting the husband for a while throughout his journey through the asylum process and now in his life as a refugee, but his family have only recently joined him on a Family Reunion visa.
One of the questions we get asked a lot is why it's largely men who come over to the UK, leaving their families and then bring them over later. There's a perception that the journey to get here is an easy one. It's actually very dangerous, crossing continents, crossing the Mediterranean, and then crossing the Channel. It often involves traffickers, exploitation and dodgy dinghies. Often we see it's the men of the family who are judged to have the best chances to survive the journey. If they are granted status, they can then apply to bring their families over on a Family Reunion visa. That means they can fly into the UK – a much safer route for women and children.
He and his wife called us as they had applied for Child Benefit but they hadn't received any payments yet. They didn't feel confident enough to speak to the department on the phone, even with my help, so I helped them write an e-mail to explain their change in address. We've now been told they'll get their payment in the next week and the family are very relieved.
Something we are trying to do during lock down is to call all of our current clients to see how they are coping with lockdown and if there are any needs which we can help with. If it's not something we can help with, I can give a list of local support organisations who are still open who can help or I can make a referral for someone. The feedback I'm getting is that people are finding it really helpful. There's a lot of uncertainty and people aren't sure who is still open and how to get in touch so people are really grateful.
I'm also able to help those who struggle with English either as I speak Arabic, or I can get an interpreter on the line to help if they speak another language. People find it really reassuring to hear their own language and I can make sure that they are understanding the information I'm sharing.
A lot of people are asking if they can come to see us– they'd much rather come and talk to us face to face rather than on the phone. I'm explaining to a lot of people why we're not open but I know people are really missing that interaction.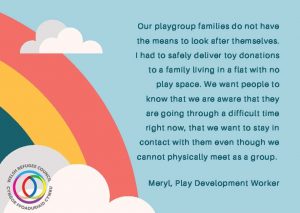 Wednesday
My day tends to start at 6 – I try and go for a walk everyday while it's quiet. It helps prepare me for the day ahead.
I start my working day at 9am when I log on. I check my e-mails and see if anything has come in overnight. I also try and follow up on any work left over from the day before.
Today I pick up another Family Reunion case. This time for a refugee who is chasing a National Insurance Number (NINo) for his wife so he can register her with the Department for Work and Pensions.
Welsh Refugee Council led a campaign a few years ago to push for NINos to be printed on the back of Biometric Resident Permits (BRP) Cards which are issued once someone is granted refugee status. Without this number, in normal times refugees can't start to apply for employment and financial support. This was causing long delays as people were waiting around 4 weeks to be issued one – at the same time they had just 4 weeks to leave their asylum accommodation and support. After a lot of work engaging with partners in the Department for Work and Pensions, Jobcentre Plus and the Home Office it was agreed this would happen! That was a great step forward, but it isn't the case still for those arriving as a part of a Family Reunion.
Thankfully, during the coronavirus crisis we don't need to wait for a NINo to be issued. I provided reassurance to them both that this wasn't something that was needed.
They were also worried that his wife was pregnant and they were struggling to register with a GP because she didn't have her BRP card. I was able to explain her rights to healthcare and that she didn't need to have her BRP to register. I also explained that because of coronavirus things are working a bit differently at the moment!
Sometimes it can be challenging as people hear things through their communities and it can be challenging to try to explain why that information isn't always right!
Thursday
Working from home and not seeing clients face to face is still a challenge but we're learning and getting more experience all the time. It's a chance for us to be creative and think outside the box a little bit to find new ways to get things done.
Everyone I speak to says they understand the importance of staying safe and are following the social distancing rules. We are very aware of the need for people to look after their own mental health whether they're client, volunteers or staff – but it can be challenging at the moment.
Many of the people we work with have experienced a lot of trauma in their own country, on their journey to the UK and once they get here. We sometimes build strong relationships with clients as we support them through the asylum process and the their life as a refugee. It can be upsetting to hear when people we've worked with for a long time aren't well and to see how that impacts their ability to move forward with their life in Wales. We try and support and make referrals to agencies or community groups but sometimes people don't get the help they need quickly enough.
Today I pick up a call from a couple who are trying to make a joint application for Universal Credit. We supported the husband who is a refugee, and his wife has joined him. As she has arrived on a Spouse Visa, she has what is known as a No Recourse to Public Funds condition (NRPF). That means that she is not allowed to access a whole list of support – including all mainstream benefits. I speak to them both separately to explain the situation that they will still only get the same amount of money each week to support both of them – but we still need to register they are living together. I help them get in touch with their job coach to arrange a telephone appointment.
I move on to helping one of our clients who I have referred to a local housing project. He is confused and says he doesn't understand the information he is being told about his accommodation. I contact the housing project and ask them to explain to me what the situation is so I can explain that to the client. This is something we do quite a lot of. People trust us because of the strong relationships we have built and so even when they access other services, they still want us to explain things to them because of that trust. I call the client back and explain to him that he is in temporary accommodation and that he needs to engage with the housing project who will help him move into something more stable.
As he's a single male, he'll probably end up on a short-term tenancy, in a shared room, in the private rented sector. There's very limited Local Authority housing stock in this part of Wales so many people end up renting privately. It takes time for people to be able to access Rent Deposit Schemes – as they've had to survive on £37.75 a week as an asylum seeker and are unable to work so can't save up. That means often they're moved into temporary accommodation for a while. It does really delay people being able to start to build their lives here as there's still no real security.
But, I know without our project, without the relationships we build with clients and the relationships we build with partner organisations whether in housing teams, Jobcentre Plus, or other charities new refugee we support would find things a lot more difficult.
I enjoy doing this work and I like that it gives me a good feeling that I've done something positive and people are happy.
Friday
This morning started with a challenging call from someone who was trying to get hold of a replacement BRP card after losing his. A lack of accommodation security means refugees can move house frequently, combined with slow Home Office systems this means that vital documents are sometimes sent to old addresses and are missed. This can be very frustrating and they will often express this to us.
I understand their feelings and do my best to de-escalate the situation. I explain what we can do to help and that I will contact the Home Office to make sure they have the right address and to ask them to reissue the card.
We have a regular team meeting each week to keep in touch with each other during this time and to share challenges and support each other to find solutions. It's great to have the chance to see everyone and to hear how we are all getting on.
After the meeting, I check my messages and find I have a number of messages from newly granted refugee who has been referred to us. I try calling back, but it's clear there is a language barrier. I ask if they want me to call them back with an interpreter but they say they would rather communicate by text. Some people prefer this as they run the messages through translation apps themselves. We try and accommodate people's preferences where possible but in the end we exchange over 50 messages. It's much quicker when we can see people face to face.
I take more calls today from existing clients with different issues – one is having problems as their boiler isn't working leaving them with no hot water, another needs to apply for support as they've lost income as a result of the crisis.
We're lucky that we have really strong partnership working here. There are groups offering practical support who we can refer into, and they will refer people to us if it's something we can help with too.
I'm happy I can help people at during this difficult time and know that us just being here gives people hope.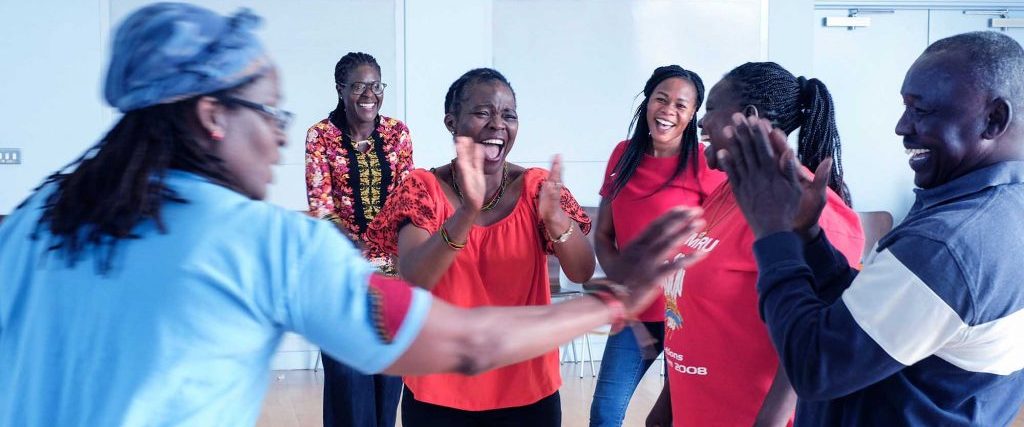 DONATE TODAY!
You can help us continue our work empowering refugees to build new futures in Wales